I just love a New Year. Everyone's making plans, goals, cleaning up, throwing out. I came across Project UFO on the Cut To Pieces blog, and thought I'd throw my hat in the ring. This will also be a good list for me to start since our Quilt Guild is also planning a UFO challenge, with prizes, and money!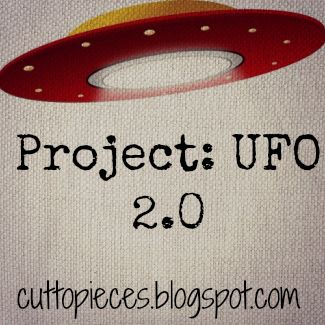 So lets see what's on the plan for this year to finish. It would be so great to end the year with no UFOs laying around.
1. First up, the Asian Quilt. Uggh. Tried to put in on the 100 day hustle list, and never took it out of the box. I just need to replace some ribbon, baste the thing and quilt it up. It's not even that large. I think I'm stuck because I don't know what to do with it when I'm done. Too large to hang up. Too small and not soft to snuggle under. Any ideas?
2. Next up is the Crazy Cat Quilt. Started this one just a couple of months ago. The rows are all stacked up waiting to be sewn together. Should be a no-brainer.
3. Missing in Action: The Lighthouse Quilt. Been a few months, still haven't found it. I think its buried in a closet somewhere. (note: its actually a little more done than this picture shows. Its just the last pic I have)
4. Sips of Summer blocks. Should just sew them up to get them out of here. Charity quilt or something.
5. The oldest UFO to date. My log cabin blocks. Pieced by hand. We're looking at 12-13 years old now. I do have a plan. I just need to execute it.
6. Not sure if this counts, but it is a UFO. Just waiting for the embroidery so I can quilt it up.
7. My Karen Kay Buckley Project. I would be thrilled if I could get it finished up for our Guild Show in Oct. Maybe as a pillow.
8. Last, and only on the list out of obligation, is my project from the David Taylor Class. It is just such a time and space obligation. Must. Make. Progress.