1. What did you get/give for Valentine's Day?
I gave Mr. Riley a homemade card. Willem made me a card at school.
2. Do you have a vacation planned in the next couple of months or in the summer?
With some luck I will accompany Mr Riley to a convention in May.
3. What is one thing you do to pamper yourself?
Pamper? Self? Yeah, not so much. Does buying fabric count?
4. What sparks your interest to other people's blogs?
Good projects, crafty, funny, and consistent
.
5. What kind of a mood are you in today?
All the kids are in various stages of sick, the baby is the worst, and so, I am tired.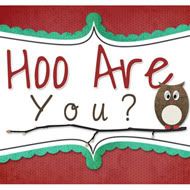 Oooh, and come back tomorrow for my first giveaway!